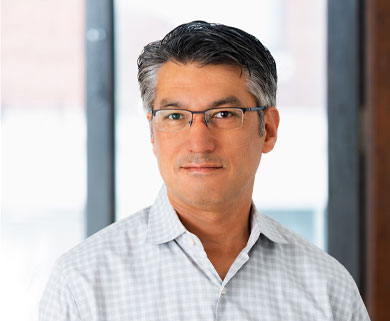 Kenji Fujita, MD
Chief Medical Officer
Kenji Fujita, MD, is an internist and cardiologist with over 20 years of experience in academic medicine and industry. His experience spans preclinical to post-marketing research across a wide range of disease areas and therapeutic platforms. Throughout his career, Dr. Fujita has led five successful regulatory filings.
Prior to joining Atsena, Dr. Fujita was Vice President of Clinical Development at Alnylam Pharmaceuticals, where he led the successful filing and registration of OXLUMO™, the first treatment for hyperoxaluria, in addition to leading clinical programs in hypertension and liver disease. He has also held clinical development roles at Alexion Pharmaceuticals, where he led neurology and rare metabolic disease programs, and Merck, where he worked in cardiovascular clinical development and served as the Clinical Development Lead of the Emerging Markets Research and Development group. Earlier in his career, Dr. Fujita was a Junior Engagement Manager at McKinsey & Company.
Dr. Fujita has authored more than 20 peer-reviewed articles and currently serves as an Assistant Professor in Clinical Medicine at Robert Wood Johnson University Hospital. He completed a residency in internal medicine and a fellowship in cardiology at Columbia University and is board certified in both specialties. Dr. Fujita holds an MD from Harvard Medical School and AB, summa cum laude, in Biochemical Sciences from Harvard College.